Dear friends, we welcome you to the official website of the magazine
«Amparo»!
We invite everyone to meet and cooperate!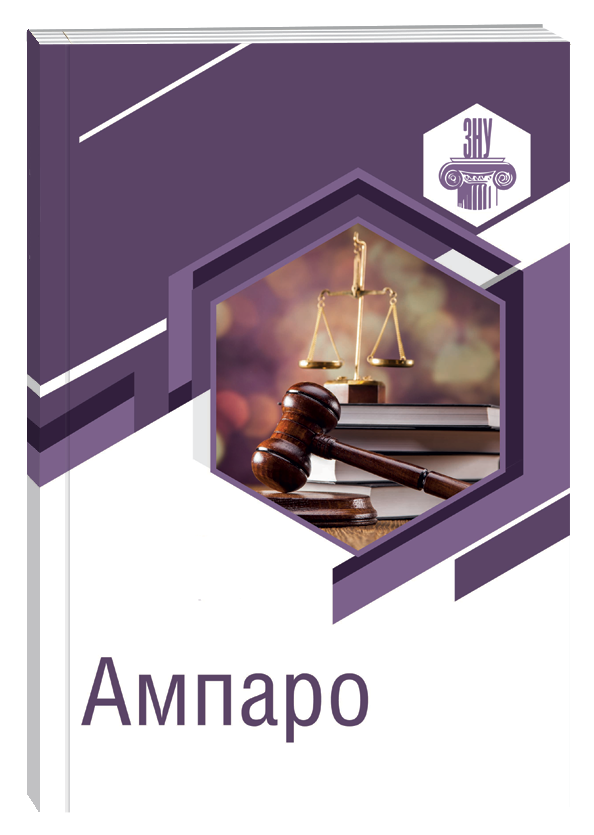 Journal of the Zaporizhzhya National University "Amparo" is a professional print magazine founded in 2009 by the Law Faculty of Zaporizhzhya National University. The publication is included in the "List of scientific professional editions in which the results of the dissertation works for obtaining the scientific degrees of doctor and candidate of sciences".
Based on the Order of the Ministry of Science and Education of Ukraine as of 17.03.2020 № 409 (annex 1), the journal is included in the list of professional publications of category "B" in the field of legal sciences (081 "Law", 293 "International Law").
The journal is included in the international scientific base Index Copernicus International (Republic of Poland).
The editorial office assigns to each published material an international digital ID of DOI.
The journal covers current issues of the current legal system of Ukraine, problems of development of legal science and education of Ukraine. The journal also informs about developments in scientific life and legal education in Ukraine; submits reviews of scientific papers and legal textbooks. Materials submitted for publication in the journal are reviewed by members of the editorial board, reviewed and recommended for publication by the Academic Council of Zaporizhzhya National University.
The editorial board of the magazine includes leading Ukrainian and foreign experts. The publication cooperates with universities of Ukraine and abroad, state authorities and local self-government. Such cooperation envisages placement of information materials, publication of scientific articles, holding round tables on the basis of publication. The publication publishes scientific-theoretical and practical materials on current general theoretical and sectoral legal issues, as well as proposals for improvement of the country's legislation. We invite everyone to cooperate with our publication and invite you to publish your articles. This publication is intended not only for scientists but also for practitioners who draw from it much useful for their activities.
Regards,
editor-in-chief of the magazine,
Doctor of Laws, Professor,
Honored Lawyer of Ukraine,
Corresponding Member of the National Academy of Legal Sciences of Ukraine
Kolomoiets Tetiana Oleksandrivna
---
About the magazine
Founder of the publication: Zaporizhzhya National University
Year of foundation: 2009.
Certificate of state registration of the edition:  KV № 15436-4008 PR dated June 22, 2009
ISSN: ISSN (Print) 2786-5649 ISSN (Online) 2786-5657 
Professional registration of the publication: Resolution of the Presidium of the Higher Attestation Commission of Ukraine No. 1-05 / 1 of February 10, 2010; Order of the Ministry of Science and Education of Ukraine as of 17.03.2020 № 409 (annex 1).
Branch of science: law.
Periodicity: 4 times a year.
Language of edition: Ukrainian, German, English.
Editor-in-Chief: Kolomoets T.O., Doctor of Law, Professor.
Deputy Editor-in-Chief: Kolpakov V.K., Doctor of Law, Professor.